On this excursion you will visit Uch Hisar castle, Devrent valley, Avanos village, Goreme museum, lunch and many other activities on the North Cappadocia Tour with 9 Activities Turkey Tour.
Cappadocia Tour is for those looking for distinction and avoiding repetitive activities on Turkey Tours, as Cappadocia is one of the best destinations after Istanbul in Turkey in terms of the number of visitors.
This trip takes you out of the framework of traditional trips in general, and gets you into a world of imagination and confusion, in short There is nothing similar in this journey that can be found in all parts of Turkey or the world.
Additional Suggestion: Hot Air Balloons flight in Cappadocia, it starts before sunrise and ends before the start of the North Cappadocia Tour, and lasts for about two hours, with transportation and a one-hour flight in the hot air balloon, it is on of the best of Turkey Tours.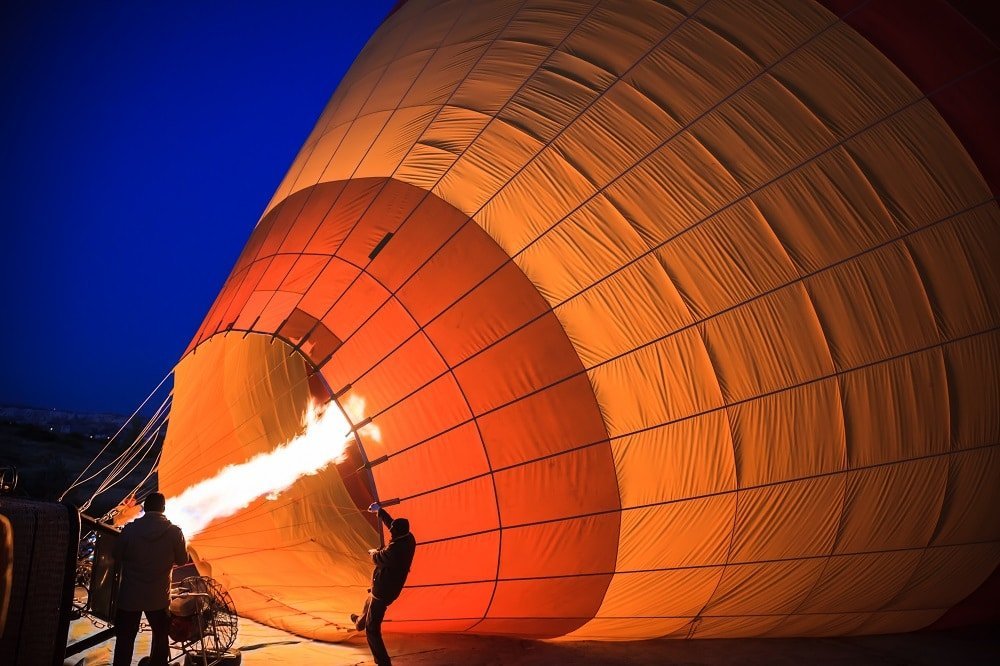 Cappadocia Tour Program-Turkey Tour
After having breakfast in the early morning at around 09:30 am, you will be picked up from the reception section of your hotel in Cappadocia.
Avanos village
Avanos village is famous for its production of pottery materials, ceramic trade, and the many pottery factories that date back to the time of the Hittites.
There you might experience making your own jar according to the ancient Hittite method, where you will move the mud-bearing axis with your feet constantly and use both hands to form your utensil.
Lunch Break at Cappadocia Tour
Lunch within the trip will add a distinct flavor to your trip and give you energy to pursue more discoveries on the Cappadocia Tour.
Devrent Valley
Devrent Valley, also known as Fantasy Valley, does not contain any churches or monasteries, and it is famous for its beautiful lunar views, meaning you in a moonlit night will see a different and beautiful view on your Cappadocia Turkey Tour.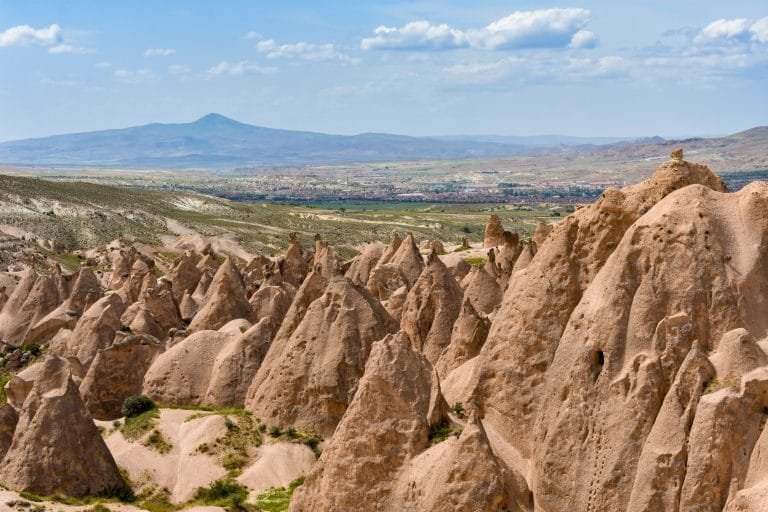 The stone formations take shapes that make them appear Like animals (camels, crocodiles, serpents, seals … etc.) and sometimes in the forms of people who dance or pray.
You will enjoy exploring these shapes and passing through them between stone formations that take the form of imaginary chimneys or jinn chimneys.
Some people believe that the elves are the ones who made Cappadocia fairy chimneys in Goreme region, while others say that nature is behind it, the decision of what to believe is yours when you check them out.
Goreme Museum
The Goreme Museum is a part of Cappadocia Tour, it is an open-air museum protected by the UNESCO.
It has stone-carved churches and monasteries dating back to the fifth and thirteenth centuries AD.
In fact, there are more than 400 churches in Goreme, and there are many frescoes which still reflect its vibrancy and make it look like it was freshly painted.
Pasabagi Valley at Cappadocia tour
Pasabagi Valley, or the Valley of the Monks in Cappadocia, contains the best variety of fairy chimneys in Cappadocia. Fungal elves "relative to the shape of mushrooms".
This valley is also known as the Valley of the Monks because many monks used to seek refuge in this valley when necessary.
A chapel for the priest "Simon" was built inside one of the triple hats, and you will be able to visit and explore what is inside.
Uchisar Castle
Uch Hisar Castle is the highest point in Cappadocia. There is a distinct panoramic view of the area with the surrounding mountains from afar at the top of the castle.
The rooms of this multi-storey stone castle are connected by stairs, channels and corridors.
Cappadocia tour includes
– A tour guide who speaks English.
– Hotel transportation in an air-conditioned car.
– Entrance fees to museums and rented places.
– Lunch during the trip.
Cappadocia trip does not include
Personal expenses, Tipping, Balloon flight in Cappadocia.
Cappadocia Tour Q & A
Why choose a Cappadocia trip?
If you want to do something special during your visit to Turkey and you want to get out of the usual trips in Istanbul, Trabzon, Antalya and other common tourist cities.
If you love going deeper into Turkish civilization and seeing what Turkey tours have to offer you with all the wonders and expressive activities, then this trip is a Very suitable option to satisfy your curiosity.
Also, when you visit Cappadocia as a part of your Turkey tour, you will see latterly what it means to live in a stone house, and will be surprised to check all those stone formations.
Also you will learn about the history of this region through the Cappadocia open air museum tour, to enjoy the local lunch In Cappadocia, there will also be a possibility for you to have a Hot Air Balloon Ride in Cappadocia.
When is the best time to take a Cappadocia trip?
This Cappadocia trip is a trip that takes place on a daily basis at all times of the year, and has nothing to do with the season or weather conditions, and even if there is snowfall in that area, your trip is still valid, but with a snowy flavor.
But what may not take place in Cappadocia is the air balloon flight (in case you have also booked it), which takes place in the early morning before sunrise and it may be cancelled due to the presence of wind and not because of the temperature, rain or snow.
Are there additional activities that can be added to the trip?
Yes, it is possible to do shopping with a tour guide in the Cappadocia region, as there are carpet products in Turkey that you can inspect and buy, and there are additional Turkey tours that you can organize.
Some of these are quad trips for safari "trolley trips", Turkish dance show that includes dinner, a Turkish bath in Cappadocia, you must benefit in advance about these trips and inform us that you want them in order to organize transportations and reservations if needed.
Where does Cappadocia turkey tour start?
This trip starts from your hotel, which you will be in Cappadocia, but if you are in Istanbul and want to have Cappadocia turkey tour, you must organize a Cappadocia tour to be starting from Istanbul.
How long is a trip of north Cappadocia?
The duration of this trip is 8 hours and it starts at 09:00 AM and ends at 04:30 AM, and upon your arrival at the hotel, it will be around 05:00 PM.
Is North Cappadocia trip suitable for all ages?
This trip is a journey that only requires you to be able to walk moderate distances and does not require much effort, but it may be unsuitable for the disabled due to the relative ruggedness of some places within the trip, which may cause movement limitations.
If I decide to take this trip myself, is that possible and how?
The important thing in a North Cappadocia trip is not only seeing those places, but also getting the information that your tour guide will provide you.
It is better for you as a first choice to make this trip with a small group (about 15 people) by booking Cappadocia tour with Turkey Tours Shop.
The other option (more expensive option) is that you make this trip a personal one, by renting a car with a driver (it must be with a local driver) and then you will provide him with the names of the places that you will visit in Cappadocia, and you can spend the time you want in each area.
This trip can be completely private with a driver and a tour guide who speaks English, and here it will be more and more expensive, so the best economic option is to make this trip with a small group.
Can I have a Cappadocia tour with a tour guide who speaks my language?
Usually, depending on the percentage of visitors to the Cappadocia region, English and Spanish language options are the most common, as most of the people making this trip are Europeans and countries that speak English or Spanish, but other language options are also available and you can contact us to get other preferences for your trip.
Related Cappadocia Tours:
South Cappadocia Tour with the underground city
Best Restaurants In Cappadocia
Historical Information of Cappadocia: Cappadocia