On The Ephesus Tour you will visit, The Ephesus theatre with 25.000 seats, library and gymnasium of Ephesus, Temple of Artemis which is one of the 7th wonders of the world, the house of Virgin Mary and Isabey mosque on the Ephesus full day tour with 4 destinations including lunch.
The ideal way to perform Ephesus tour is when you start it from and hotel in Kusadasi, so you will be picked up from your hotel at around 08:00 AM to join a small guided group, get ready for a trip into the history that dates hundreds of years ago, you will dropped back again to your hotel at around 05:00 PM.
Ephesus Tour Program
Ephesus Tour and the Ancient City
on this part of the Ephesus Tour, you will be able to check the marble ruins of the Roman Empire at the Asian side.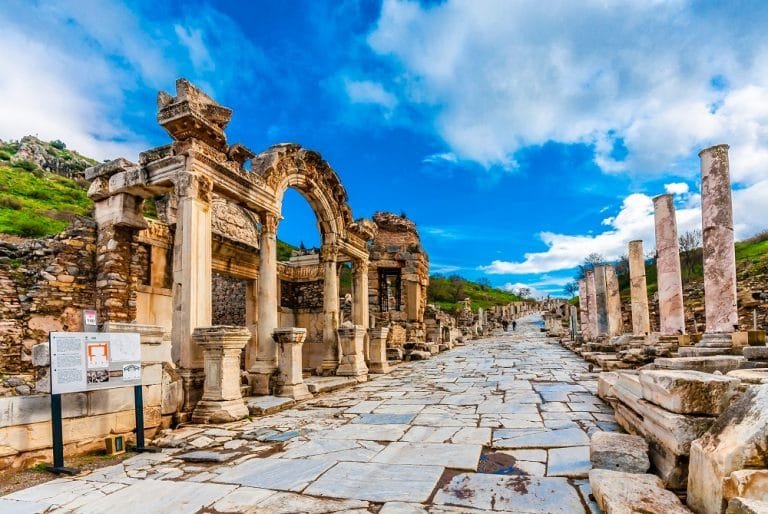 3 thousand years ago, more than 220.000 people used to live in Ephesus, and at that time it was considered as the 2nd biggest capital.
You will also be able to check the wonderful theatre of Ephesus, it is a theatre that has 25 Thousand Seats to witness all plays, Arts and all the activities that used to be held at the Ephesus Theatre.
Also you can see the many ruins of the Ephesus library and the gymnasium, Ephesus was a center throughout the ages.
Ephesus ancient city was a trade center of the ancient world, also a religious center of early Christianity and today, a unique center of tourism in Turkey.
Temple Of Artemis in Ephesus

Get ready to visit one of the 7 wonders of the ancient world, it is the Temple of Artemis in Ephesus, and although it has been destroyed by time and wars, but you will be able to find and check the foundations of this great Temple.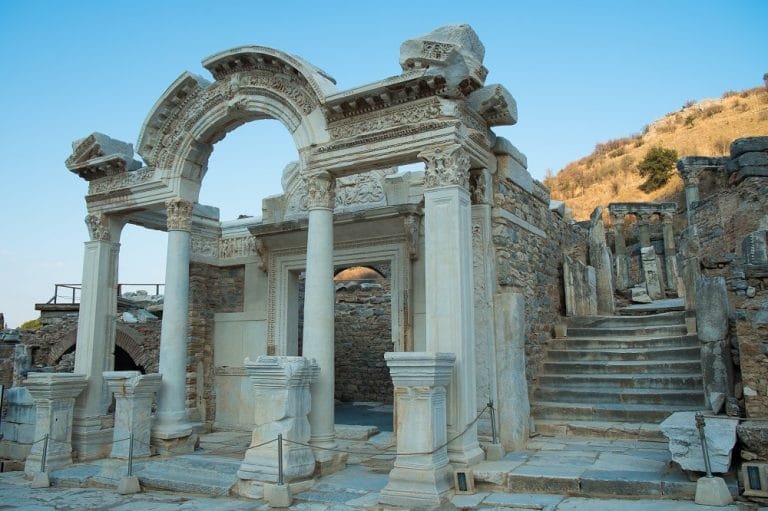 Temple of Artemis was initially made of Marble and it is famous for having over than 36 huge columns that date to the Hellenistic age.
It is also a fact that Most of the Exhibits of the London British Museum, date to the same period over which the Artemis temple was built, and many of its best parts are still at that same very museum.
Lunch Break at Ephesus
A lunch break with a selected Turkish food will be another flavor to add within this Trip through History and religions of Ephesus.
House of Virgin Mary
The old History "according to Catholic Christians" indicates that the Bulbul Mountain was the destination chosen by the Mary the Virgin, and that she spent the last period of her life there.
House of the Virgin Mary in Ephesus is one of your most important destinations on the Ephesus tour, and you will have this extraordinary spiritual experience of being at the same place where she Mary the Virgin used to live.
Isabey Mosque

Isabey Mosque "Isabey Camii" is one of the most distinguished examples of Seljukian architecture, It was built within 1 year, exactly between years 1374 and 1375 AC. An inscription from God decorates the doorway.
Isabey Mosque was built by the master builder Ali, son of Mushimish al-Damishki. Crown-like doors from the Seljukian architectural style open up to the rest of the Mosque now combined with the decoration elements of Ottoman style.
Your tour of Ephesus through time, Religions, Architectures and cultures will end at around 05:00 PM when you will be dropped back to your hotel in Kusadasi.
Tour includes
– A tour guide who speaks English.
– Hotel transportation in an air-conditioned car.
– Entrance fees to museums and rented places.
– Lunch during the trip.
Tour does not include
Personal expenses, Tipping, Balloon flight in Cappadocia.
Can I be picked up from a hotel other than Kusadasi hotels?
Well, this totally depends on the services that are included within this Ephesus Trip and their price, the golden rule with your Tourism agent says that you should ask for it.
When you let us know what exactly is your location, maybe we will be able to pick you up so easily and for no extra charge, maybe we will also need to arrange another kind of transportation for you.
Just inform us of the case and leave that to us, since we are locals and we will definitely find you the right solution.
Is the Ephesus tour convenient for old people?
The Ephesus Tour does not really require too much effort or strength, it just needs regular ability of walking, and in matter of fact most people who enjoy and appreciate this Tour are Old Tourists.
Can I have a private tour of Ephesus?
Yes you can, but then you will have a bigger cost, since the car, driver, guide fees will fall only upon your expense, but if you have some other friends accompanying you then it will be better for you pocket.
Are there other tours near Ephesus that I can have?
In Fact, there are many other things to do in Kusadasi or starting from it, maybe one of the best tours for you to do after Ephesus Trip is The Pamukkale Tour, it is well worth going.
To learn more about what else you can do nearby Ephesus, please do not hesitate to contact us.
How can I book this Tour?
You can easily fill up the contact form, when we learn about your arrival time and destination, we will start forming your tour schedule that suites you best.
Recommended Tours:
North Cappadocia Tour with 9 Activities
South Cappadocia Tour with the underground city
External links: Information about Ephesus