On your 1 day Pamukkale Tour you will visit: Hierapolis Ancient City, Antique Pool of Cleopatra and White Travertine Terraces with a beautiful panorama and you will have the chance to bath in the Hot Springs on the Pamukkale Tour Program with 4 Activities.
Pick up and start of the tour
From your Hotel situated in Kusadasi or Denizli, get ready to be picked up early in the morning at around 08:00 AM, you will have a transportation to the Location of the great Pamukkale Sightseeing area and form there you will join a small group for your Pamukkale Tour.
Ancient City of Hierapolis
Hierapolis is an ancient city located on the top of Pamukkale and is a World Heritage site.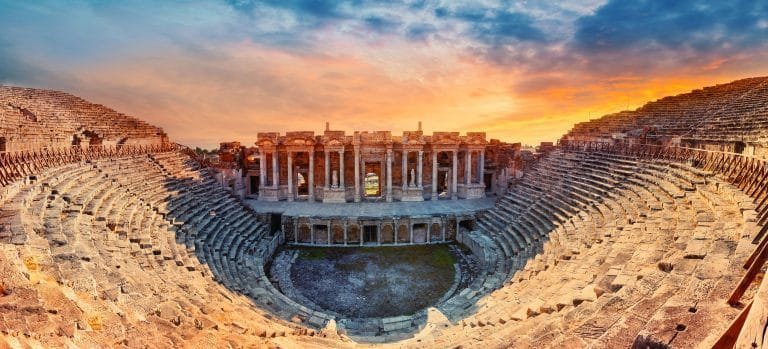 On this tour you will visit the Roman Theatre which could hold 12,000 – 15,000 people, and you will see the Temple of Apollo which was the spiritual place for the roman priests, and also the Necropolis which has more than 1200 tombs that date to the Hellenic period.
Antique Pool of Cleopatra
Situated above the Pamukkale white travertine pools is one particularly spectacular location fed by the same hot springs. Here you can bath in the same waters in which Cleopatra once swam!  A professionally run modern spa facility allows you to enjoy these historical healing waters.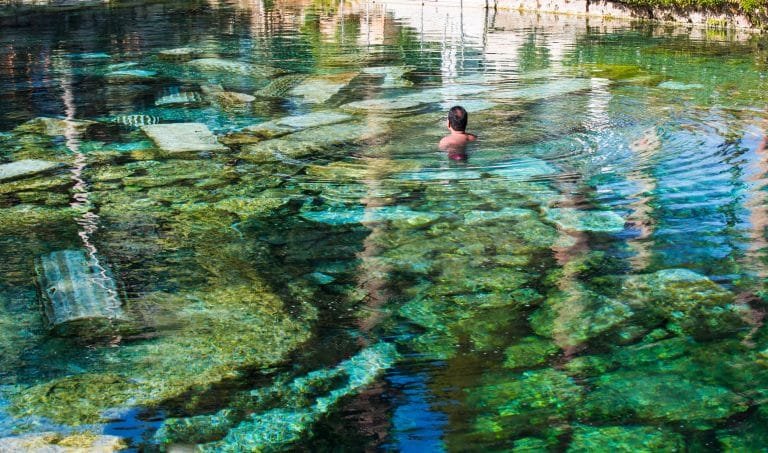 Unlike the white water of the lower pools the Antique Pool favored by Cleopatra, Queen of Egypt, is pure clear warm water. Once it was surmounted by a Roman Temple to Apollo with ornate roof held up with Doric columns. Imagine how Cleopatra must have experienced this when you imagine it in its glory day.
Lunch Break
Enjoy your Lunch in Pamukkale and refresh your energy to continue your tour of white flavor of Pamukkale.
White Travertine Terraces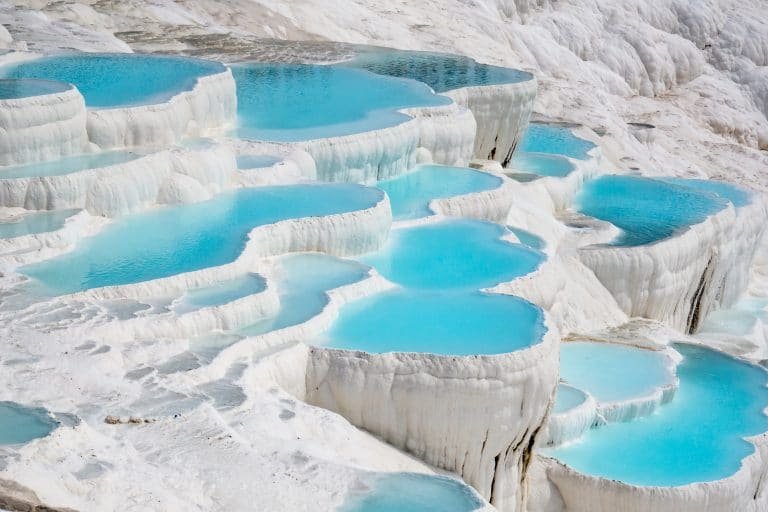 These white terraces were formed in time due to the Calcium and minerals of the hot springs. They are white as Cotton and you will be able to walk on them and enjoy the extraordinary view where everything is white around you.
Hot Springs of Pamukkale
Pamukkale has been known for its healing hot springs pretty much since the beginning of time. Due to tectonic activity in the region, the hot springs of Pamukkale are warmed by subterranean heat and springs from the earth at temperatures between 33-100 °C.
End of Pamukkale tour
At the end of your Pamukkale Tour, you will be dropped back to your hotel "in Kusadasi or Denizli" at around 05:00 PM, and this will be the end of your excursion of Pamukkale.
Pamukkale tour includes
– A tour guide who speaks English.
– Hotel transportation in an air-conditioned car.
– Entrance fees to museums and rented places.
– Lunch during the trip.
The tour does not include
Personal expenses. Tipping.
Can I perform Pamukkale tour from Istanbul?
Yes you can do that, but since Pamukkale is around 2 away from Istanbul by flight, then you need to organize it including two way flight tickets.
If you are not is short of time, it will be more worthy if you have a 2 days tour that will include Ephesus Tour and Pamukkale tour, this will mean that you will need a 1 night stay in Kusadasi and use 2 airports to arrive and depart.
Just contact us if you are interested and we will arrange the whole package for you.
Is Pamukkale tour available at all seasons?
Yes it is available in all seasons, and since you will visit the hot water springs, so even if it is winter, this will mean another flavor and experience for you.
Other recommended Tours
Ephesus tour for full day with 6 destinations
South Cappadocia Tour with the underground city
North Cappadocia Tour with 9 Activities.
External Links: