Here you will find the most important 7 things to do in Cappadocia, in addition to being in this city of magic and imagination, with the North Cappadocia trip and the South Cappadocia tour, which will introduce you to the most important landmarks of Cappadocia, but there are other activities and things to do in Cappadocia during your time on the Cappadocia Tour.
1 – Hot Air Balloon flight in Cappadocia
Without any doubt, the balloon trip in Cappadocia is the most important among the things to do in Cappadocia.
With the first rays of the sun, you will be in the balloon basket, you will start a journey that lasts for an hour in the air, and you will start this special day by watching the sunrise that will illuminate the landmarks of charming Cappadocia.
This trip is an additional activity that you must book in advance and coordinate with us to guarantee your place on this trip.
During the tourist seasons, it may be very difficult to find a place for you unless you have already booked.
For more information on the details of the hot air balloon flight in Cappadocia, follow the following link: Hot Air Balloon Ride in Cappadocia
2- Camel ride in Cappadocia
Watching the sunrise is not limited to those in the balloon basket in Cappadocia, but you can be on the back of a camel at sunrise for an average of an hour and a half, and you can choose other times during the day or at sunset.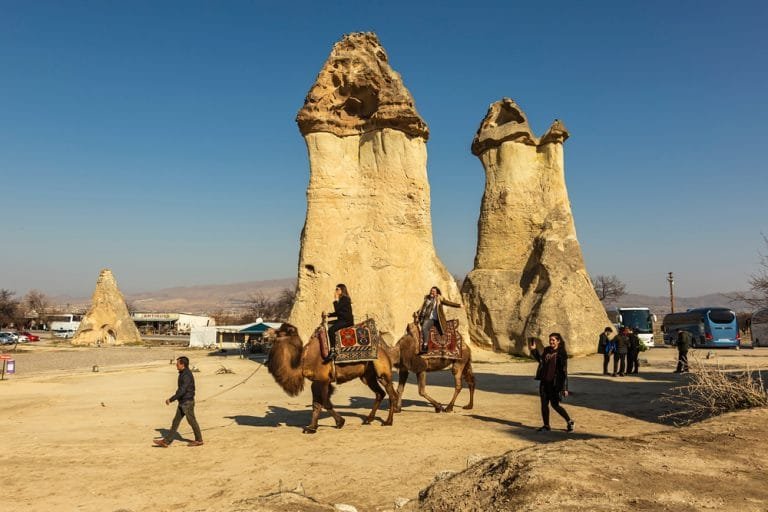 The camel trek will enable you to gain another perspective on the sights of Cappadocia while on the back of a camel.
You can also wear traditional clothes during your tour, and get great photos.
During this trip, you can get transfers to and from the hotel, in addition to an English-speaking tour guide who will explain well about the places you will visit.
As well as passing through many of Cappadocia's monuments and strange stone formations.
To organize a camel riding tour in Cappadocia or to inquire about anything related to it, click on Contact Us.
3- Horse riding in Cappadocia
One of the things that Cappadocia was famous for is that it was called the land of beautiful horses, and on this tour, you will be able to ride the Arab horses, "the best and most famous in the world and throughout the ages", you will also get moments of calm and meditation away from the crowds.
During this trip, which lasts about two hours, you will pass through the most important valleys in Cappadocia, you will also pass many landmarks and historical churches, and you will be able to take pictures whenever you reach the highest plateau with the charming views of Cappadocia.
On a horseback riding trip, a helmet will be available upon request, and you must be able to handle your horse during the trip, as you will be riding alone and your tour guide will be on the back of another horse.
For more information about this trip, contact our team by clicking here.
4- Hiking in Ihlara Valley
Hiking in the Ihlara Valley is considered as one of the most beautiful activities in the city of Cappadocia. It is a valley with a depth of up to 100 meters and a length of 14 kilometers, it had been naturally formed thousands of years ago in Cappadocia.
It is believed that this valley included approximately one hundred thousand people, in addition to one hundred Cave church.
Hiking in the Ihlara Valley is a daytime activity, during which you will be able to walk moderate distances with your English-speaking tour guide, and you will have the opportunity to witness the natural beauty of the valley, the churches and other natural attractions.
Get in touch with our team to inquire about your Cappadocia hiking trip by clicking here.
5- Handcrafted ceramic bowls
In Cappadocia, handicraft are used in all necessities of life, and as for the manufacture of ceramic pots, you will be able to start learning to make and shape your ceramic bowl as you like and then put it in the oven so that you can take it with you later to your country as a souvenir from Cappadocia.
6- Turkish dancing show in Cappadocia
A Turkish night with a dancing show  in Cappadocia, usually this activity includes transfers to and from the hotel and you will have dinner while enjoying watching various performances of traditional Turkish dance, belly dance and other types of dances.
This activity is suitable for couples in general, and is ideal for an unforgettable night in the charming atmosphere of Cappadocia.
To book a special night in Cappadocia, contact our team for advance reservations.
7- ATV Quad Biking in Cappadocia
Among the hills and plateaus of Cappadocia, ATV riding is an activity that will add fun and action to your day as well as the enjoying views of Cappadocia.
You can organize this tour to be two or four hours, and if you are a fan of this activity, you can organize a full day tour that includes lunch and a tour guide.
Your safety is fully taken into consideration as you use a protective helmet for the head, hands and feet on the ATV ride, in addition to the presence of a guide who will make sure that your journey goes in the best way.